How to improve food photos, touch up and improve photographs and images of food catering with photoshop or similar.
How to photograph food?
Photographing food, dishes, menus ... are difficult since they can look bad, or give an incorrect feeling of food.
Photographing food, especially for magazines, catalogs, pdf or to teach in catering, restaurants, bars ... they require that these foods look great and mainly that they feel like, seem juicy, healthy and that they feel like eating them.
That is why we must improve them with photo retouching programs so that the food really looks like they are, since when photographing them they can lose quality or the lights may be inappropriate.
We give you some examples of randomly chosen photographs on the internet, for no profit, and only as an example so that anyone can see the importance of retouching the images to make them more real with prepared foods, photographs for catering, bars, restaurants ...
The original food images are those on the left and the images retouched with photoshop are those on the right. It can be seen, with very few changes that the foods photographed are more real and more similar to reality. So they are interesting for tutorials, restaurant menus, catering cards, ... where images of food and cooked dishes should be shown.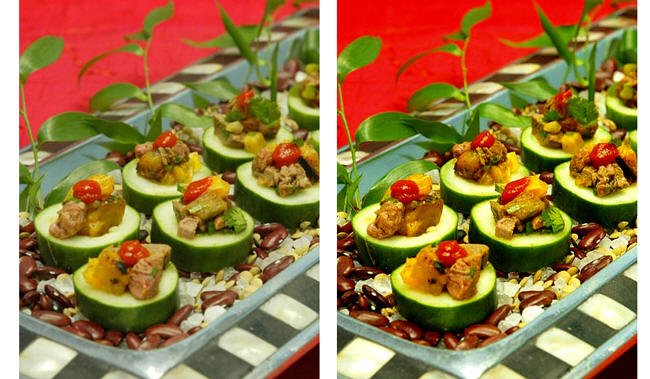 How will we do the retouching to make it quick and easy work to retouch the photographs to photograph food?
To do it very fast, we will first adjust the levels (image / adjustments / levels) and modify the lower level (which improves the contrast by making more depth) and the upper one that will give more life to our colors.
Secondly, if necessary, we would make a selective adjustment of the colors that interest us: red, yellow and green (or those we consider necessary in the image). To enhance the colors of food. (In this way we correct the colors so that they look more like reality. For this we would go to image / adjustments / selective correction, where we would adjust each color.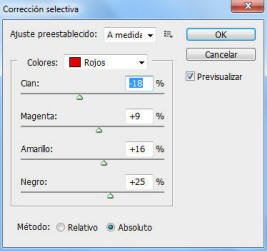 And finally we focus the image, so that it looks sharper and therefore with more brightness. Promoting that sauces and glare seem more vital, tastier and seem freshly made.
In this way we significantly improve our food photographs and therefore improve the presence and quality of our product if we are responsible for a restaurant, catering, bar, ....
Graphic design ideas